For a first-time UTV buyer, new to the world of Utility Task Vehicle (UTVs), All-Terrain Vehicles (ATV)s and side-by-sides, the many different models and specifications can be a little overwhelming! Who wants to decode acronyms when you could be enjoying the great outdoors? At Hammerhead, we're proud to sell one of the most fun, affordable and useful UTVs on the market. The Hammerhead R-150™ is a no-nonsense utility vehicle for those who want to spend a day in the woods, get the job done, or both!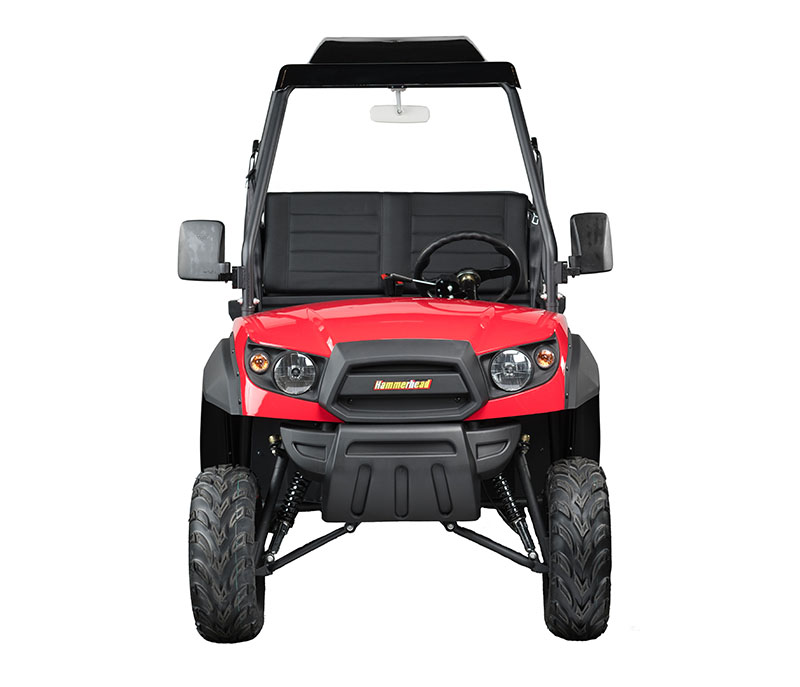 The R-150™ is an ideal UTV for anyone who needs a reliable way to get around a property anywhere from 10 acres to 50.  Part of what makes the R-150™ great for first-time buyers is its low maintenance needs. The lightweight, user-friendly and dependable R-150™ is offered with an automotive-grade finish in blue, red or black with a corrosion-resistant, powder-coated steel frame. The flexible polypropylene body helps keep out dust and debris without adding weight.
While it has simplicity and dependability, this machine doesn't skimp on power. The 149cc engine and continuously variable transmission (just like the ones in modern automatic cars) provide smooth acceleration. Familiar features such as quality three-point safety belts, rearview mirror, headlights, turn signals and tail lights ensure that anyone 16 and over can safely operate the R-150™. Other features that make the R-150™ great for those just getting into the world of UTVs include comfortable and durable foam seats, a spacious cargo bed,  drink holder and an easy-to-read digital speedometer. You just hit the ignition and go!
If you're a first-time UTV buyer, new to the world of UTVs, you can find a local dealer or contact us to learn how the Hammerhead R-150™ can improve the way you work or play. We pride ourselves on our network of friendly local dealerships who use, trust, and love to share our products. Whether you're looking for an affordable way to keep the family farm in great shape, explore the far-off corners of your property or just enjoy a no-hassle trip to a nearby fishing hole, the R-150™ is the best tool for the job.