The Hammerhead Off-Road R-150 gets you out on a UTV without breaking the bank.  Its 150cc engine has enough power to get you up to a top speed of 25mph and get you where you want to go without any problems.  It's a great choice for getting chores done in the yard, or cruising around your property or community.  If you're looking for the best UTV you can get for a reasonable price, then you might want to take a look at the R-150.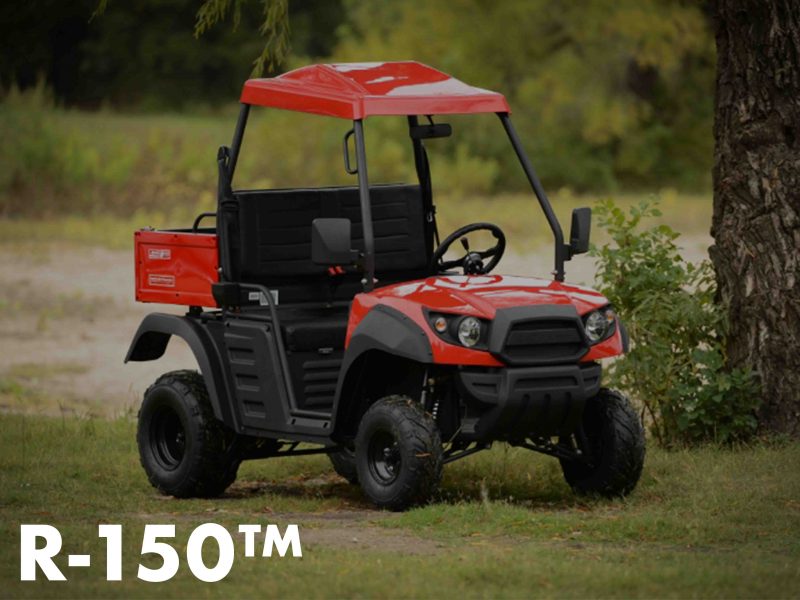 It has a reliable GY6-based engine, a popular time-tested design that has inexpensive parts readily available. These quiet and smooth engines have been used in ATVs, scooters, go-karts, snowmobiles, and dune buggies for years.
There's a solid rear axle that delivers enough traction from both wheels to keep you out of trouble without the added weight and maintenance costs of four-wheel drive.
The R-150 gives you 8+ inches of ground clearance to get over obstacles. The dual A-Arm independent front suspension keeps the ride smooth, so you don't spill your drink out of the cupholder.
It has a powder-coated solid steel frame that'll outlast a painted frame and won't mind getting wet and muddy.
Hydraulic 4-wheel disc brakes will bring you to a stop quickly and safely—even while towing a trailer or hauling a heavy load in the manually operated dump body.
Ever been offroading in a vehicle with a flat bench seat? Remember how hard it can be to keep yourself from sliding around in the seat?  The R-150 has a contoured bench seat that provides comfort and keeps you in the best driving position—right in front of the wheel.  Three-point safety belts will keep you and your passengers safe and secure.
A rearview mirror, headlights, and turn signals will keep you safe and visible when you're coming home in the evening after a day in the woods, at the lake, or on the beach.
For more information about the R-150, and to find a Hammerhead Off-Road dealer near you, visit our website.