As current events change the American social, economic, and political landscape, many Americans are searching for a change to their own personal landscapes. According to a March 2020 Washington Post article, a "great migration" is occurring from dense urban areas to more sparsely populated locales. The growth in new rural land ownership will inevitably lead many to realize the necessity and thrill of a utility vehicle for exploring, enjoying, and maintaining their land. Farmers and outdoor enthusiasts have long been using small utility terrain vehicles (UTVs) for accessing unforgiving terrain, maintaining their property infrastructure, and enjoying off-road areas. For those new to UTVs, selecting the proper vehicle or distilling needed capabilities may seem daunting. However, Hammerhead Off-Road offers an affordable but highly capable model in the R-150 that will aptly serve the needs of rural property owners.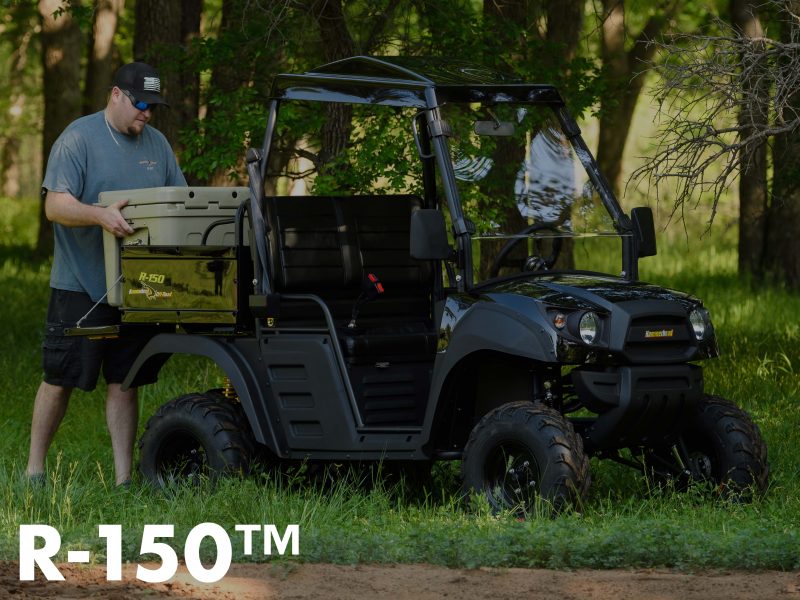 Among the most important features of any UTV is safety. By their very nature, utility vehicles are intended to operate in places with limited or nonexistent roads and bridges. The R-150 includes a three-point safety harness and solid steel bridge frame to ensure that passengers are restrained and protected in rough driving conditions. Additionally, four-wheel braking assists drivers in maintaining positive control while traversing rugged environments. The R-150's standard headlights, tail light, and rearview mirror ensure adequate visibility for both the driver and others outside the vehicle.
After safety, functionality tops the list for a utility vehicle. After all, utility is in the name! The R-150 includes a standard dump bed that is ideal for transporting individual tools and loads of material alike. The 12V auxiliary outlet provides a way of charging personal devices or small electronics. With other options, the R-150 can be customized to provide even more functionality. However, with its standard features and affordable price, the Hammerhead Off-Road R-150 is a durable, safe, and functional utility terrain vehicle at an exceptional value. It is even offered in three colors from which customers may choose.
Choosing a utility vehicle may be confusing or overwhelming. However, with value offered by the Hammerhead Off-Road R-150, rural landowners will have a reliable vehicle for maintaining their properties, enjoying outdoor sports, or just taking a relaxing ride off-road! Click here to find a dealer near you!