What better way to shake off that school day stiffness than with an energizing off-road adventure? Put down the tablets, buckle on some helmets, and get outside! All-weather entertainment has never been more affordable! At $1,999 MSRP, you couldn't ask for a more exciting off-road vehicle than the Mudhead 280R by Hammerhead Off-Road. Let the kids run wild in this compact monster of a machine. With three-point safety belts, dual A-arm front suspension, and rear hydraulic disc brakes, parents can relax knowing the Mudhead 208R is keeping their thrill-seekers safe and sound. The slick features of the Mudhead will excite imaginations and inspire adventures.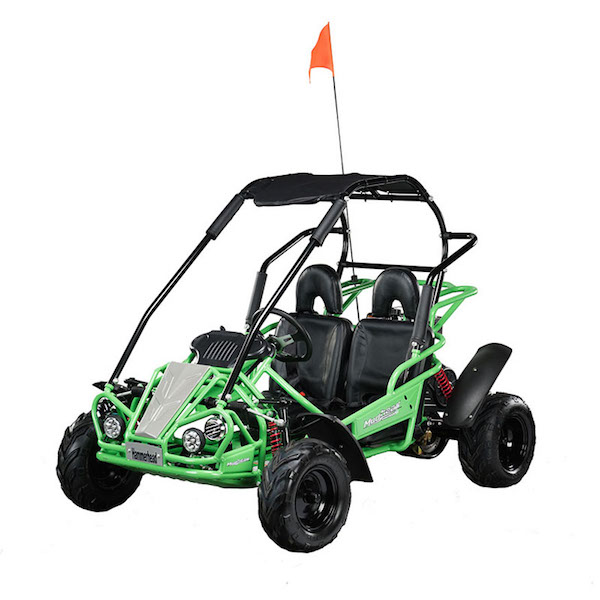 The MudHead 208R is customizable to meet the pickiest standards. It's the newest addition to the youth segment, a step up from the 136cc Torpedo and ready for riders 10 years and older. This go-kart seats two in individual race style bucket seats and is available in six vibrant colors, the most of any current Hammerhead go-kart model. Ensure year-round off-roading enjoyment with pull-start backup, a Hammerhead Off-road feature unique to the Mudhead.
The Mudhead's 208cc (6.5 HP) LCT electric-start engine will take kids flying, while the canopy sun top keeps them cool. Dual LED headlights, a horn, and a sturdy brush guard provide additional levels of security to their new-found freedom. Rack and pinion steering coupled with aggressive off-road tires on sturdy steel wheels guarantee they will be occupied and exploring for hours on end.
Visit Hammerhead Off-Road for more information on the Mudhead 208R, as well as other vehicles. With dealers located all over the US, you are sure to find a go-kart to fit your needs. Safety, reliability, and innovation are central to the mission of Hammerhead Off-Road. Rider safety training is recommended before getting into any off-road vehicles; more information can be found at https://www.hammerheadoffroad.com/rider-safety/.