Get ready to experience the newest addition to Hammerhead Off-Road's youth segment – the Hammerhead Mudhead SE. Designed with style, safety, and performance in mind, this go-kart is about to take the world by storm. In this blog, we'll introduce you to the innovative features on the Mudhead SE.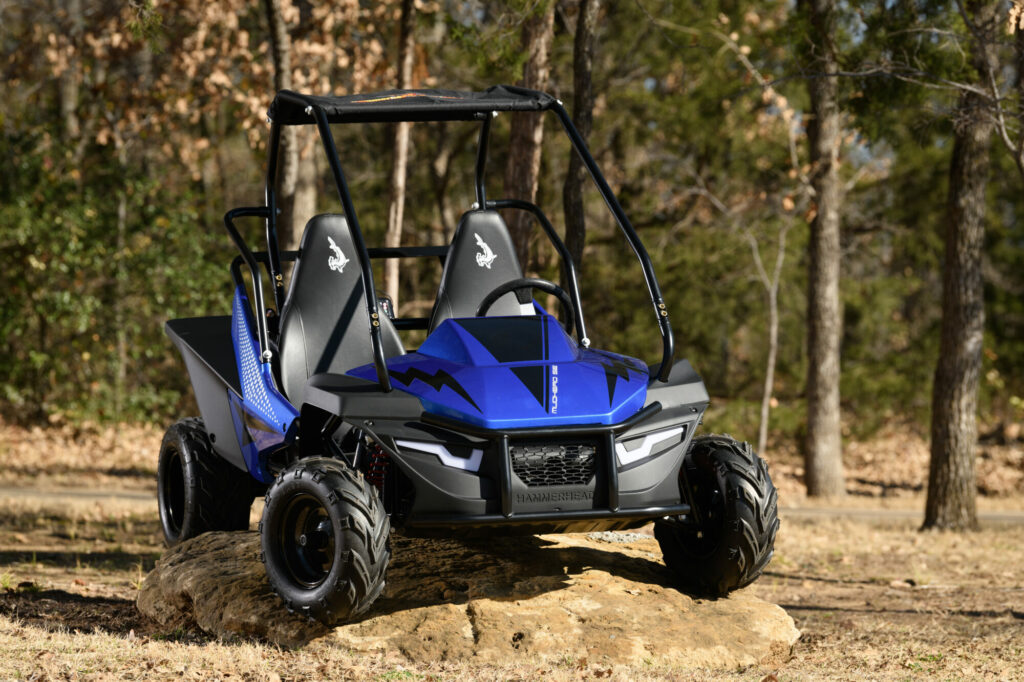 A Powerful and Reliable Engine
The Hammerhead Mudhead SE boasts a powerful 6.5 HP LCT powered engine, providing a thrilling and enjoyable ride for young drivers. The automatic start with a pull start backup ensures reliable all-weather starting, so the fun doesn't have to stop when the weather turns. With smooth and consistent power delivery, the Mudhead SE is perfect for kids looking for an exciting off-road adventure.
Sleek Design and Customization Options
The Mudhead SE's sleek design is complemented by six vibrant color options, allowing your child to choose the one that best reflects their personality. The upgraded plastic body, paired with a robust steel bumper, ensures durability and longevity. Additionally, the LED headlights not only enhance the go-kart's visual appeal but also provide improved visibility during nighttime rides.
Advanced Safety Features
Safety is paramount with the Hammerhead Mudhead SE, which features a Roll Over Protection System (ROPS) to protect young riders in case of a rollover. The throttle limiter allows parents to set a maximum speed, ensuring a safer driving experience for their kids. Furthermore, the all-terrain tires provide improved traction on various surfaces, giving both children and parents peace of mind.
User-Friendly Experience
The Mudhead SE is designed to offer a user-friendly experience, with comfortable seating that accommodates young riders. The reverse feature makes maneuvering the go-kart a breeze, even in tight spaces. Additionally, the Mudhead SE's simple maintenance and accessible components make it an ideal choice for families looking for a hassle-free, enjoyable off-road experience.
Comparing the Mudhead SE with Other Youth Go-Karts
The Hammerhead Mudhead SE sets itself apart from other youth go-karts with its powerful engine, sleek design, advanced safety features, and user-friendly experience. Its value for money and long-term durability make it an excellent investment for families seeking outdoor fun. Positive customer feedback and testimonials further attest to the Mudhead SE's outstanding performance and reliability, solidifying its position as a game changer in the world of youth go-karts.
The Hammerhead Mudhead SE offers unmatched style, performance, and safety. If you're looking for the perfect gift for your adventurous child, look no further. The Mudhead SE will not only provide endless hours of fun but also encourage healthy, outdoor activities for kids of all ages. Experience the thrill of off-roading with the Hammerhead Mudhead SE – the ultimate youth go-kart! Click here to locate a dealer near you!