Experience the thrill of off-roading with the Hammerhead Off-Road LE 150, a high-performance go-kart designed to impress. Equipped with a 150cc engine, it's capable of reaching exhilarating speeds of up to 40 miles per hour. Tackle any terrain with confidence, thanks to the full suspension system, and enjoy effortless operation with its automatic transmission. Don't forget about the reliable hydraulic disc brakes, ensuring a safe and controlled ride every time.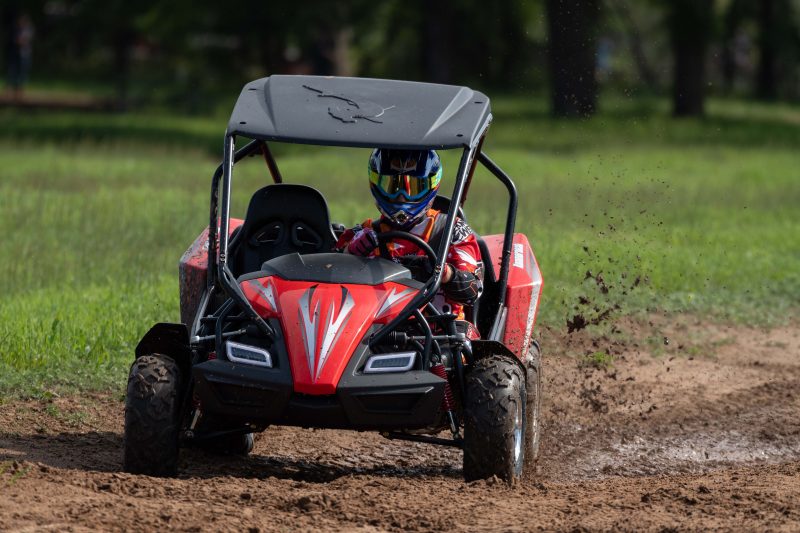 Durable and Safe: Confidence on the Trails

Constructed with a heavy-duty steel frame, the Hammerhead Off-Road LE 150 is built to withstand even the roughest rides. Enhanced protection comes in the form of front and rear bumpers, while the roll cage and seat belts offer added safety for all riders. The adjustable bucket seats cater to a variety of sizes, making it a fantastic choice for families and groups of friends seeking outdoor adventures together.
Easy to Use: Beginner-Friendly Off-Roading

The Hammerhead Off-Road LE 150 is designed with user-friendliness in mind, making it perfect for off-roading novices. The automatic transmission eliminates the need for manual shifting, while the hydraulic disc brakes ensure reliable stopping power. Parents can also take advantage of the throttle limiter to regulate the go-kart's speed, providing a safe and enjoyable experience for younger riders.
Affordable: High-Performance Without the High Price Tag

The Hammerhead Off-Road LE 150 offers exceptional performance and features without breaking the bank. Its affordability sets it apart from other off-road vehicles, delivering unbeatable value for money. With low maintenance costs, it's a smart investment for those seeking thrilling off-road experiences on a budget.
Why Choose Hammerhead Off-Road? A Leader in Off-Road Fun

The Hammerhead Off-Road LE 150 is the perfect choice for off-road enthusiasts seeking a powerful, durable, and user-friendly go-kart. Its impressive performance capabilities, customizable options, and affordable price make it an excellent investment for those looking to enjoy outdoor fun. Don't settle for less – satisfy your need for speed and adventure with the outstanding Hammerhead Off-Road LE 150. Contact us today  at Hammerhead Off-Road for more information!