If you're an offroading enthusiast seeking a fusion of power, safety, and advanced features, look no further than the Hammerhead GTS Platinum. This offroad go-kart boasts top-tier performance, built to deliver adrenaline-pumping adventures without compromising on safety or comfort.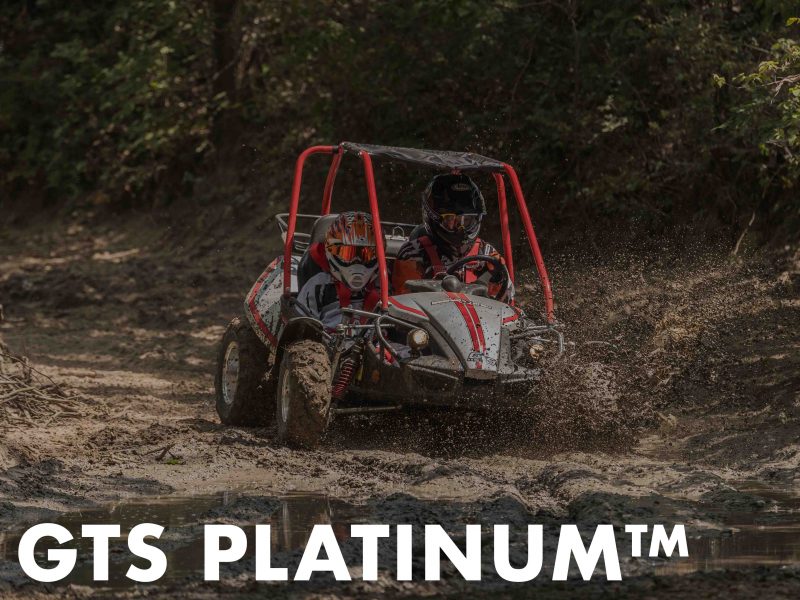 Exceptional Power and Performance
The heart of the GTS Platinum is a potent 149cc 4-stroke engine that guarantees exhilarating performance. Complemented by an automatic CVT drivetrain, it delivers smooth, reliable acceleration and power, perfect for both beginner and veteran offroaders.
Advanced Safety Measures
Safety remains a prime focus in the GTS Platinum's design. Equipped with racing-style seat belts and roll cage bars, it prioritizes rider protection. Additionally, the sturdy steel frame and hydraulic disc brakes on both front and rear wheels provide enhanced safety and control during your off-road exploits.
Comfort and Convenience
The GTS Platinum doesn't skimp on comfort and convenience. The bucket seats and sliding adjustable driver's seat cater to riders of different sizes, ensuring a comfortable ride. Its independent front suspension and rear swing-arm suspension, along with adjustable nitrogen gas shocks contribute to a smooth ride across varying terrains.
Premium Features
The GTS Platinum stands out with its host of premium features. It boasts polished aluminum wheels, digital speedometer, dual LED headlights, and a bikini sunshade top for enhanced aesthetics and functionality. Plus, the provision of a large cargo rack allows for convenient storage during your adventures.
Your Offroading Partner: The Hammerhead GTS Platinum
The Hammerhead GTS Platinum offroad go-kart is your ticket to thrilling, unforgettable offroading experiences. Offering a robust blend of power, safety, and comfort, coupled with advanced features, it promises to elevate your adventures to new heights.
Experience the thrill of the ride with the Hammerhead GTS Platinum. Adventure is waiting. Contact us today for more information!