With a 150cc engine and amazing features, the Hammerhead GTS 150 has consistently outsold its rivals. The GTS-150 is not just a go-kart, it is the start of a memorable adventure. It is the perfect choice for anyone who wants to explore their property or unknown terrain. With five different colors to choose from, the GTS 150 allows you to ride in style. On any new terrain, the GTS 150's adjustable driver seat and steering wheel will allow you to get close to the action. However, good looks are not the only thing the GTS 150 has to offer.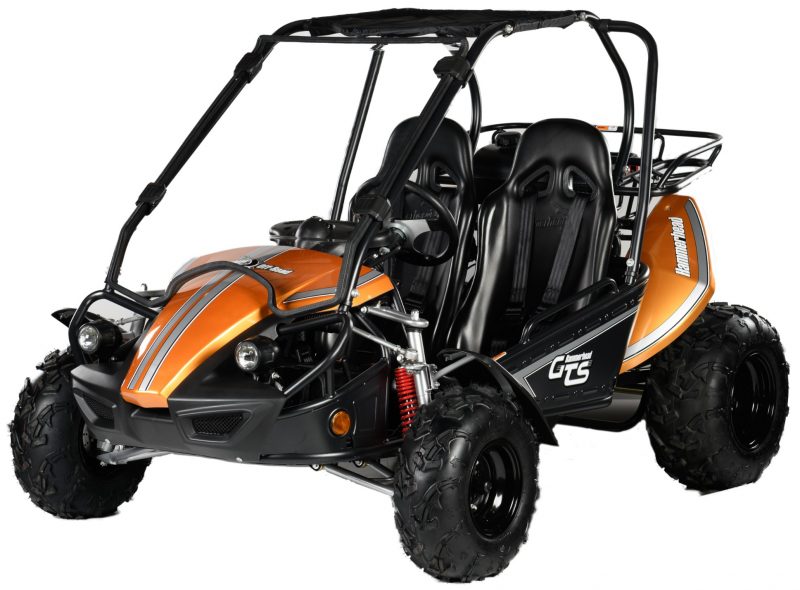 Driving is easy in the GTS 150 with its automatic CVT transmission and 9 horsepower engine. The electric start accelerates the start of your adventure in the GTS 150. The GTS 150 comes with sport racing seats and large off-road tires mounted on steel wheels. The digital speedometer allows drivers to quickly and easily determine their speed. With dual headlights, the GTS 150 will help illuminate any terrain. The GTS 150 is the perfect vehicle for your next adventure.
The GTS 150 has more standard features than its competitors. Safety and comfort are only some of the features that allow the GTS 150 to excel. The GTS 150's safety features provide customers with peace of mind. A 5-point seat-belt, front and back hydraulic brakes and a passenger grab bar are standard safety features in the GTS 150. Customers also have the opportunity to acquire a helmet or windshield which are offered as optional accessories.
You can easily find comfort in the GT 150. The canopy sun top helps protect passengers from solar rays on hot summer days. The GT 150 further enhances any adventure with its included power outlet. The power outlet is perfect for recharging your phone or powering up any electronic device.
Start your next adventure with the GTS 150 by contacting us today.