When looking for thrilling fun to entertain the kids this summer, forget waiting in line at an amusement park, or spending more money than you had anticipated at a go kart track for only a few hours– you can just bring the thrill to them! The HH Torpedo® by Hammerhead Off-Road lets your kids have the amusement park ride thrill, and the extreme go kart fun all packed into one, and right in your very backyard. This entry-level kid-friendly kart, with its throttle governor and adjustable pedals, is perfect for this summer's outdoor adventure. The HH Torpedo is also fully equipped with a 136cc (4HP) LCT pull-start engine, making for a simple, easy ride, and compatible with various types of terrain. Get Extreme this Summer With the HH Torpedo™!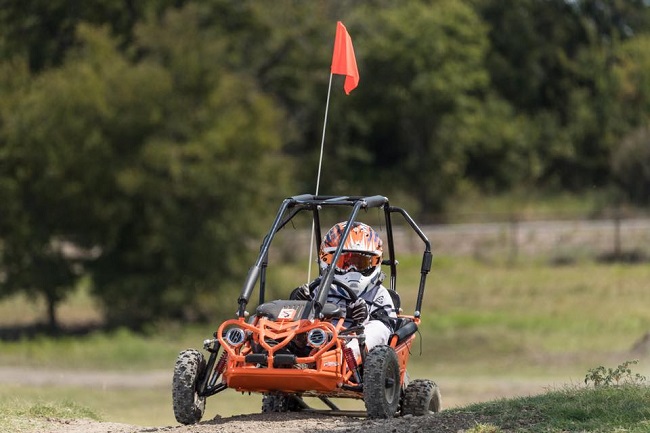 Parents can also rest easy while the kids are out enjoying some extreme, but safe HH Torpedo action, as it comes complete with great standard safety features, including a protective lap belt, adjustable speed control and rack and pinion steering. This two-wheel drive Torpedo is a satisfyingly fun way for kids to get out of the house on those long, hot summer afternoons, creating real action that video games, TV or movies just can't provide. This go kart edition is specially designed for kids ages 6 years and older, but Hammerhead Off-Road has plenty of awesome off-road vehicles for the whole family to enjoy.
This summer, ditch the line and save your money to surprise your kids with the lasting HH Torpedo experience. And, remember Hammerhead for all your off-road, outdoor entertainment needs, because we've been dedicated to serving adventure-lovers throughout the country good quality vehicles since 2003. So, kick off your kid's summer with a bang, and bring home the awesome HH Torpedo today, to give them the most fun and adventurous time of their lives– because they deserve it.