There are good reasons that the GTS 150 is the United States' top dog when it comes to off-road karting. Whether you are a novice or seasoned pro, the GTS 150 is the easy choice to get out on the trails without worrying about safety or reliability. Go-Karts provides the freedom of a four wheeled vehicle while still keeping you lower to the ground than an ATV for speed and control.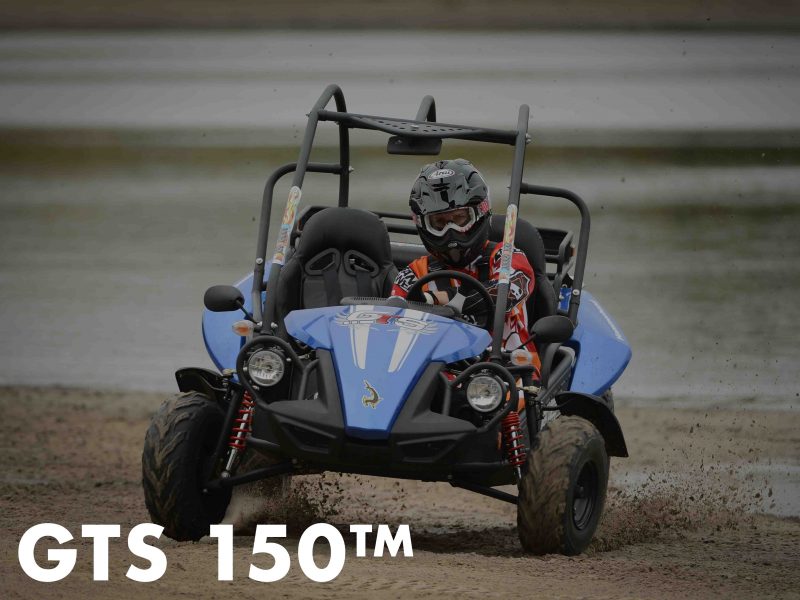 Features of the GTS 150
Jam-packed with more than capable standard features, the GTS 150 is tailored to anyone trying to get off the pavement and into the dirt right away. Boasting more standard features than any of our competitors, this machine is a step ahead of anything else on the market.  This machine is the next step in your off-road adventure. A few of the equipped features include:
149 cc Air-Cooled 4-Stroke engine, providing 9 HP
Forward, neutral, reverse transmission
Adjustable bucket seats with 5 point harness seatbelts
Both front and rear hydraulic disc brakes.
Electric start with odometer and speedometer readouts
Dual headlights for low visibility and low light riding
This only scratches the surface on what is available for the GTS 150. Keep in mind, this kart is more aggressive than most and must be operated by someone 16 years or older. There are features that can make your ride even more customizable and functional for what your off-road intentions are. Now is the time to upgrade your go-kart or find your escape to the outdoors with any of our machines.
Hammerhead Off-Road has been distributing vehicles around the US since 2003 from our warehouse just outside of Dallas/Fort Worth. We pride ourselves on the unmatched quality and customer service that comes with purchasing one of our top end products. It's easy to argue that we're the leading supplier of Go-Karts for both work and play, contact us to speak to our expert team about any questions you may have