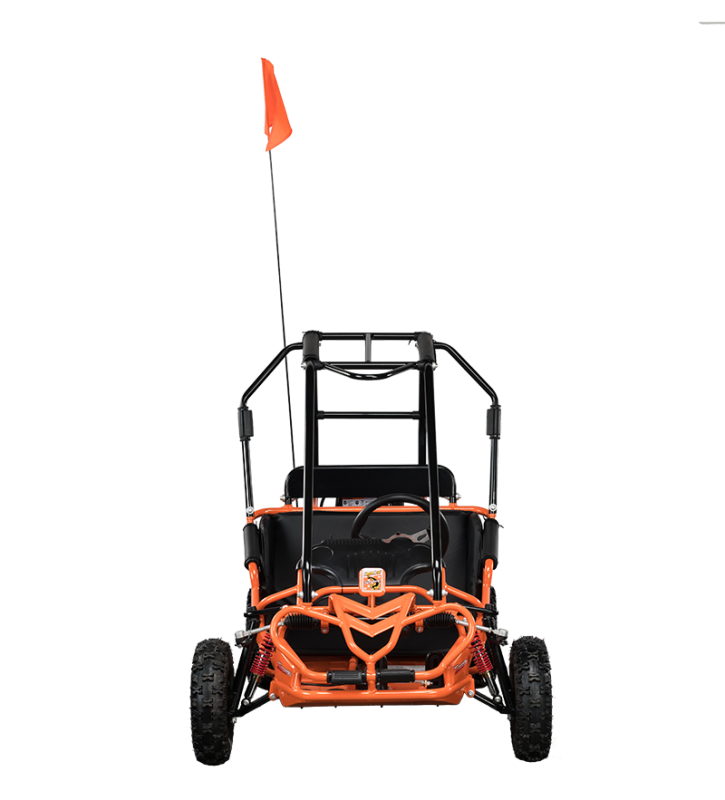 Any child who's been asking for a go-kart is really saying one thing. They're asking for a Hammerhead Torpedo. And why shouldn't they? The HH Torpedo is by far the most fun and the most safe go-kart for kids. What the HH Torpedo lacks in size, it more than makes up for in personality and excitement.
Despite it being a small go-kart intended for kids ages 6 and up, it has a powerful 136cc air-cooled four-stroke 4 horsepower engine that provides its two rear-wheels with some great power and acceleration for its size. Its front and rear suspension systems also provide the HH Torpedo with some smooth handling, allowing it and its driver to turn corners in a breeze. Its steel off-road tires will also provide the HH Torpedo and its driver a smooth ride over uneven terrain as well as on roads.
The HH Torpedo is also a very safe go-kart too, as it comes with protective brush guards, a lap safety belt, and a mechanical disk brake. As a go-kart intended for beginners, it also has simplified features that'll allow its driver to easily control it, such as a throttle governor, adjustable pedals, and an engine safety system with an on and off switch. And of course, it's also a stylish go-kart and has a very comfortable and soft seat and can come in three colors, red, blue, or orange.
So whether you're thinking about letting your kid explore their hobby of go-karting or if you want them to just try it out for fun, then the HH Torpedo is the best go-kart for you. Its balance of power, acceleration, safety, style, and price is unmatched in the industry. If you're interested in the HH Torpedo and want to learn more about it or the other go-karts that we offer, please feel free to contact us today.