When it comes go go-karts, Hammerhead Off-Road has one of the most premium go-karts in the industry, the GTS Platinum. The GTS Platinum is a off-road go-kart that's suited for people ages 16 and up and offers numerous features that can only be found in a premium go-kart such as the GTS Platinum.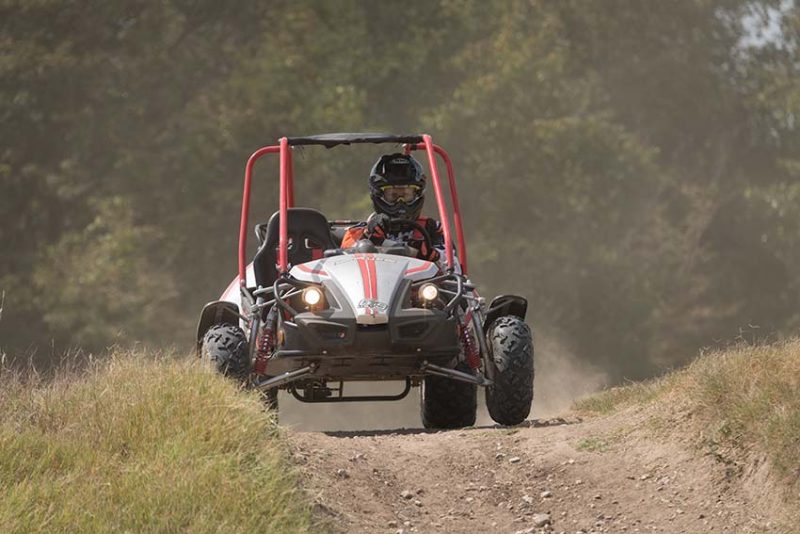 The GTS Platinum is based on our much revered GTS 150 go-kart but outfitted with the premium and luxury features that make the GTS Platinum unique in the hobby of go-karting. Its main feature is that along with the regular Dual-A arm and swing arm suspension system of the GTS 150, the GTS Platinum has nitrogen-gas shocks and this allows the GTS Platinum to have amazing handling off-road as well as on regular paved roads.
That high performance suspension system along with its brushed aluminum wheels and its 149cc 9 horsepower air-cooled 4-stroke engine means that the GTS Platinum will allow its driver and occupant to have the most fun they can have on a go-kart, whether they're on a race track or off-road. The GTS Platinum is a very safe go-kart too, and it has the premium safety features to show for it. With both front and rear hydraulic disk brakes, the GTS Platinum can come to a stop safely and quickly.
On top of that, its protective brush guards and its five-point sports-style safety harness will provide great amounts of protection and safety to the driver and the occupant of the GTS Platinum. In addition to that, the GTS Platinum has other useful features such as dual headlights, a digital speedometer, and a canopy that can be retracted to cover the top of the go-kart.
If the GTS Platinum sounds like the premium go-kart for you, please contact us for more information or click here to find a dealer near you.