Similar to the GTS 150, the GTS Platinum is a great off-road platform powered by a 149cc oil-cooled gasoline engine. That's nine horsepower in a lightweight, fun vehicle. With nitrogen gas shocks and rack and pinion steering, the Platinum handles rough conditions like a champ, and there aren't many places it can't go. In addition, it has electronic ignition and a CVT clutch, which means it doesn't take much experience to drive. LED headlights mean the fun doesn't have to end at sundown.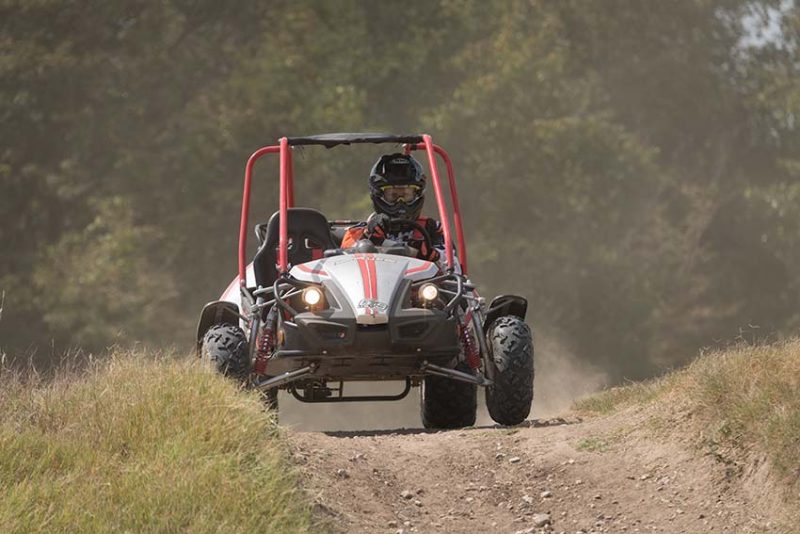 The GTS Platinum has quite a few safety features, and will be protective in the event of a crash. This vehicle has a five point seatbelt, four wheel braking, a brush guard, and overall sturdy construction.
The five point harness will keep you in your seats while driving through rough terrain, and make sure you are held down in any event.
The four wheel brakes make emergency stops quick.
The brush guard will help the woods stay out of the cockpit, by pushing it all underneath the vehicle.
While driving safely is always a must, you should be safe from any unfortunate event in the GTS Platinum.
The GTS Platinum is the perfect go-kart for anyone over the age of 16. You can even get accessories like a helmet, windshield, and more. Please contact us for more accessories. It has an MSRP of $3299, which means with this vehicle, you get your money's worth. Unlike some of the cheap brands you see sitting in the parking lot of superstores for months, you won't regret buying this go-kart. The GTS Platinum is of a higher quality and that means the fun won't be interrupted by some unknown part breaking, with you searching the internet for hours trying to find out exactly what's wrong with it. You can continue the fun with little maintenance at all.
So get your GTS Platinum today at Hammerhead Off-Road.