Stuck in a rut this season? Maybe you simply haven't found the right outlet for your cooped-up nine-to-five energy. If that happens to be the case, we encourage you to give the bestselling GTS 150 a try. With an almost cult following and an all-season functionality, it should be able to rev your engine, no matter the season.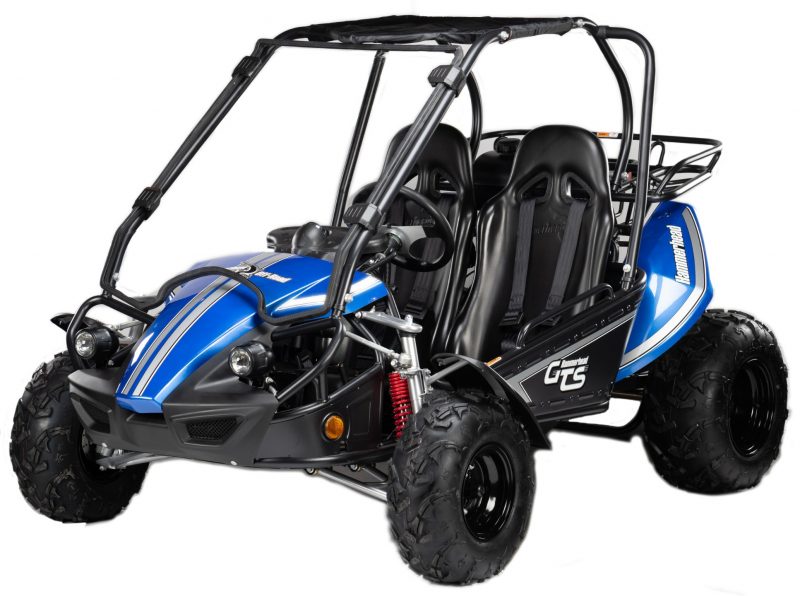 There has to be a reason it's the favorite source of adrenaline for the nation's trail-hungry thrillseekers. Maybe it's the 150cc four-stroke motor that cranks out an unbridled 9 horsepower for powering along the trails and across the fields. Maybe it's the rugged drivetrain pushing all this power to the aggressive rear tires, allowing the driver to either drift and donut their way to glory or go after it through speed and skill alone (don't worry, the front tires are aggressive, too, so you'll always be able to catch those tight turns).
Then again, maybe the draw to this excellent go-kart are the unbridled comfort and safety features it enlists to keep its drivers and passengers enjoying their rides time after time. Features like:
Individually adjustable bucket seats–so you and your weirdly tall/short passenger can both be comfortable.
5-point safety harnesses–to keep you and your passenger in said individually adjustable bucket seats on even the roughest of trails.
Solid and sturdy black steel wheels, coupled with dual A-arm front suspension and rear swing-arm suspension–rough trails can't touch you.
Dual headlights–so you can see those rough trails, night or day.
All-around hydraulic disc brakes–so you can safely come to a stop when your trail-riding session has reached its end.
Electric start–so you'll never have to rip a pull cord to get started on your adventures ever again.
If this sounds like the sort of rut-busting adventure vehicle you've been looking for, contact us to forge new trails.