You've done the research and you know you want a Go-Kart for your family. You've looked up brands and you know you want a reliable and fun youth Go-Kart from the trusted, local brand Hammerhead Off-Road. But Hammerhead Off-Road offers two Go-Kart models in their youth segment so how do you choose? This post will help you figure out which  youth Go-Kart is the best fit for your family with children aged six to fifteen by giving you a quick overview of the two smallest models Hammerhead Off-Road offers.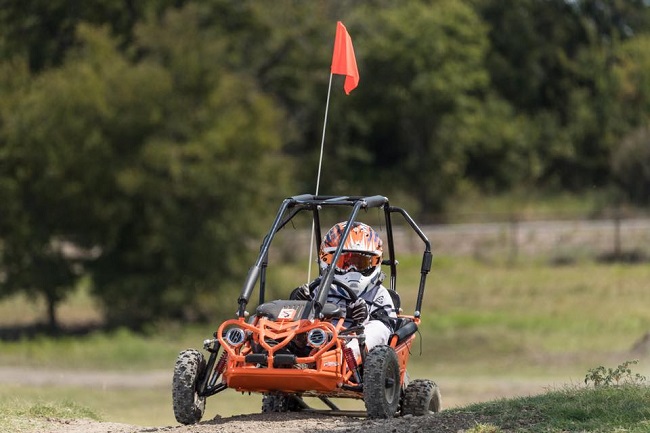 1. The HH Torpedo is the smallest Hammerhead Off-Road Go-Kart. This makes it perfect for families with children as young as six and families new to the whole idea of off-road fun! It features a pull-start 208cc air-cooled 4-stroke engine which means that the HH Torpedo is small but mighty. Weighing in at only 185 lbs and loaded with full steering and suspension, it is super easy to maneuver and control, even when going over bumps or taking turns. The HH Torpedo comes in three engaging colors: orange, red, and blue all three of which contrast perfectly with the black steel wheels.
2. The Mudhead 208R is the next size up! If your family has children already ten years old or older, then the Mudhead 208R will be perfect. It comes with the same size engine as the HH Torpedo but features the following: electric starting (with pull start backup) and a manual choke. Internal combustion engines utilize a choke mechanism to allow the driver to supply a richer fuel/air mixture to the engine temporarily. This makes the engine have to work less in order to start in colder weather conditions because you can give it more fuel and less air than normal. The Mudhead 208R also features a manual transmission allowing the driver to put it into three separate gears: forward, neutral, and reverse. The ability to reverse is something you think you don't need but ends up being extremely useful. The same goes for LED headlights, a horn, and a sun canopy. The Texas sun is no joke and a sun canopy can really make a difference when you're properly attired in protective gear. Weighing in at 325 lbs with tires that are three inches larger, the Mudhead 208R is a good-sized step up from the HH Torpedo. The more robust build of the Mudhead 208R also includes fenders on all four tires in addition to the brush guard which the HH Torpedo also features. Unlike the HH Torpedo, the Mudhead 208R is offered in six colors: orange, red, blue, green, black, and a striking silver.
So what does the difference look like in numbers? The Mudhead 208R is 140 lbs heavier, a whole foot longer, 11 inches wider, 8 inches taller, and rated for children 4 years older than the HH Torpedo.
If your children mostly fall into the age range of six to ten and have never operated an off-road vehicle, then the HH Torpedo is a great fit for your family. If your children are mostly over the age of ten and have a little experience with off-road vehicles, then the larger Mudhead 208R is the better option. Now, if your children are spread apart in age, then there's no reason to choose between the two: one of each is the way to go!  Contact us today about our youth Go-Karts to get your kids out on the trails!