If you're looking for an exciting ATV to go exploring with, look no farther than the Hammerhead GTS 150! It's got everything you need for your next big adventure. The GTS 150 boasts many features that have made it a favorite for landowners in need of a reliable off-road vehicle for comfortable rides on rough terrain; in fact in the best-selling 150cc go-kart in the US!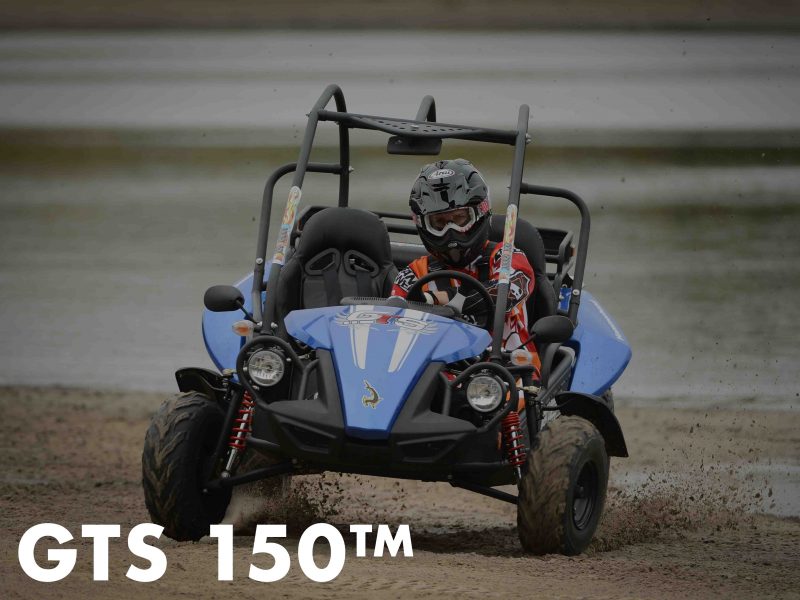 Smooth Rider
Our engineers know that drivers and passengers don't want to be rattled to pieces while they're out for a fun ride; that's why we've designed the GTS 150 with dual A-arm suspension to buffer the rough spots, and ensure a smoother ride than other previous models. Sturdy and aggressive balloon tires provide maximum traction while adding a cushioning effect on bumps and depressions on the ground.
We also install high-quality seats that provide an even greater level of personal comfort, spaced in a way that gives you and your passenger plenty of elbow room. These bucket seats can also adjust individually, as does the steering wheel!
Sturdy Design
Weighing in at 515 lbs, this go-kart is built to withstand anything you need it to do.  A 149cc air-cooled 4-stroke engine with 9 HP will propel you on your adventures, with a rear 2WD, and a 5.3″ ground clearance, all carried on a sturdy steel frame.
Safety Features
The GTS 150 comes with impressive safety features to match the other abilities of this popular ATV; comfortable 5 point seatbelts keep the driver and passenger safely in place, and the wheels and steel roll bars are set wide for maximal stability and protection.
Make It Your Own!
You can even customize your GTS 150 to fit your preferences! Optional accessories include windshields, canopies, and helmets. And of course everyone has a favorite paint color; there are a few of those to choose from too.
Ready to start your Hammerhead GTS 150 adventure? Contact us today for more information on this exciting ATV!