The Hammerhead MudHead 208R has all the things you'd want out of a big segment double-seater Go-Kart. From a 6.5 HP LCT electric-start engine to fully adjustable seats and LED headlights, the MudHead is a premier choice for families with adventurous youth!
The Mudhead 208R comes in six different colors. What color option is best for your family?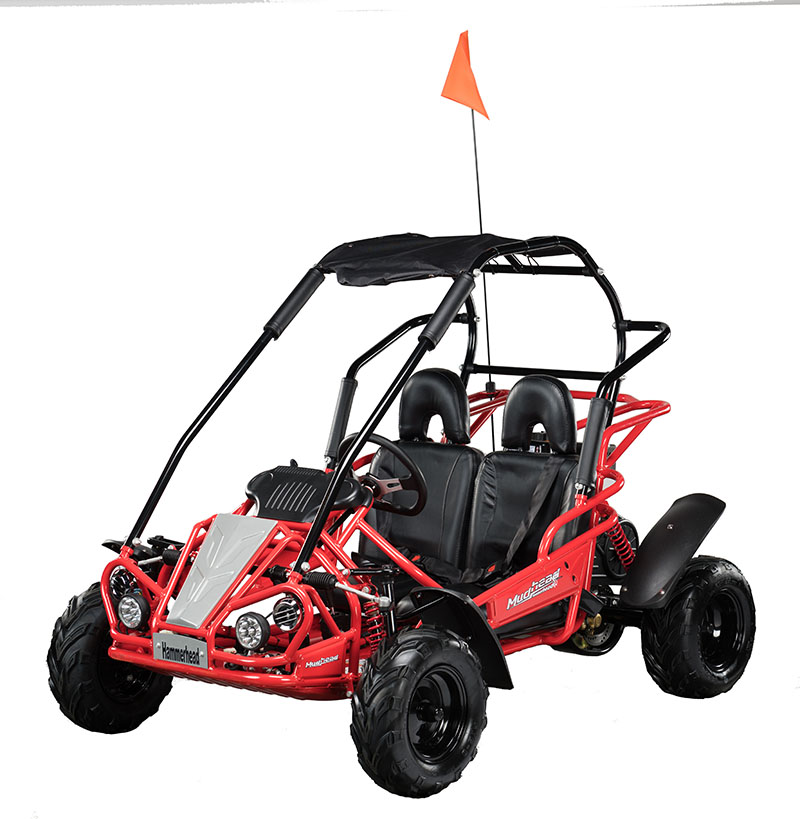 Classic Black
Tough and classic, the black MudHead 208R is an optimal choice for families who like to keep things simple and focused. Black also goes well with everything, so whether they're wearing a fluorescent green jacket or a purple athletic hat, they'll look great in the black MudHead Go-Kart.
Sporty Green
There's something about the pop of light green that is ultra-modern and very sporty. Great for families who are into a lot of outdoor and fitness activities, the Hammerhead MudHead 208R features an awesome gear rack too!
Energetic Red
If your family thrives on speed and spur-of-the-moment adventures, the red MudHead will match those high energy levels with style and flair.
Fun Blue
The blue Hammerhead MudHead is a bright, true blue that screams fun! Designed for the family that enjoys the full experience of an adventure, the blue MudHead is the way to go.
Sleek Silver
For those who really enjoy a modern, sleek look, the silver Mudhead 208R is sure to please. Nothing shows the beautiful lines of a moving machine like silver!
Seeker Orange
If your family prefers to go to the beats of their own drums, the orange MudHead 208R might just be the option for you. Unique and eye-popping, this orange is both light and bright!
No matter what color suits your family, the Hammerhead MudHead 208R will meet all your performance, lifestyle, and safety needs. For more information about our exceptional off-road products, contact us today.