Do you want to experience the thrill of a Go-Kart without sacrificing your sense of style and elegance? Hammerhead Off-Road's GTS Platinum™ offers a sleek design with industry-leading features.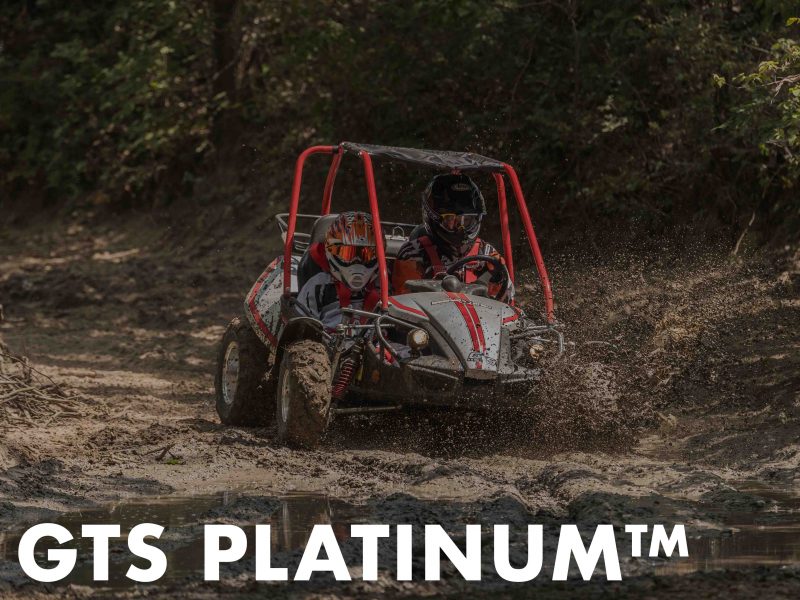 The first thing you'll notice is the striking colors: a silver body accented throughout with bold red. The GTS Platinum™ is the only Hammerhead Off-Road adult-line Go-Kart that comes in silver. Its brushed aluminum wheels match the paint which is a combination that gives the Go-Kart a sleek aesthetic. Only the GTS Platinum™ and Hammerhead Off-Road's newest adult-line Go-Kart (the LE-150) offer aluminum wheels. The bright wheels look great and, because aluminum is exceptional at resisting corrosion, will continue to look great with little maintenance.
The next thing you'll probably notice when looking at the GTS Platinum™ is that it comes equipped with Nitrogen gas shocks! The value these shocks offer is not widely understood. Simply put, this shock absorption system offers the greatest amount of control and comfort for off-road vehicles. We believe in innovation and that's why we offer a Go-Kart with Nitrogen gas shocks.
And then the dashboard will impress you. It has a sleek silver base to match the design aesthetic and features clearly labeled controls and displays. Controls and displays for what? The GTS Platinum™ comes equipped with a digital speedometer, a horn, headlights, and even a 12-volt outlet!
In addition to the super-sleek aesthetic color scheme and dashboard design and top-of-the-line Nitrogen gas shocks, the GTS Platinum™ also offers all the features you've come to expect from Hammerhead Off-Road vehicles. It is equipped with a 149cc air-cooled 4-stroke engine that offers a great amount of power for a vehicle with a dry weight of 515 lbs. Braking power is excellent with hydraulic disc brake systems in both the front and the rear. With rack-and-pinion steering combined with front dual A-arm and rear swing arm suspension, the GTS Platinum™ will smoothly go wherever you want it to go. And a 5 point metal latch-and-link seatbelt will keep you secure in your bucket seat. And, of course, the seat belts are red, to pop against the black seats and add to the general aesthetic. The seats are adjustable and have the Hammerhead Off-Road logo embossed in them. The beauty of the GTS Platinum™ is in its details.
Are you ready for the sleek, technologically advanced Go-Kart of your dreams?