When it comes to off-roading nothing beats the family fun and exhilaration of a monstrous fun kart. These are not the go karts we had when we were kids. Hammerhead has been distributing reliable and safe off-road equipment since 2003 from the great state of Texas. It goes without saying that in those 15 years we've built a name for ourselves and our products and this is what people love about Hammerhead fun karts!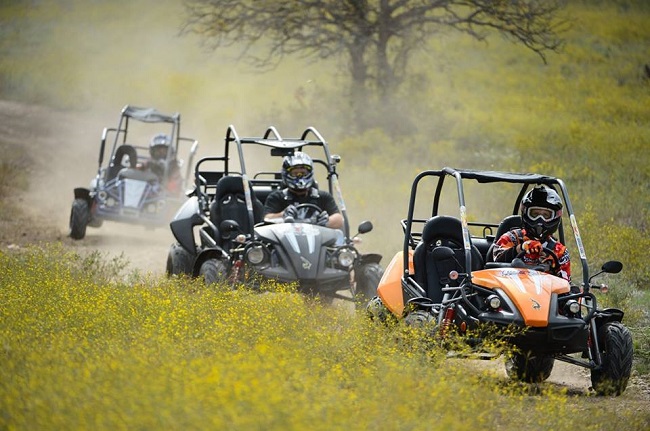 Reliability. Hammerhead has rapidly become a pioneer when it comes to technical innovation, and product integrity. What does that mean for you and your new fun kart? It means that we treat all our dealers like family and if your kart needs service we'll treat you like family too. We stand behind our karts 100%.
Safety. All of our fun karts come equipped with seat belts (lap belt and 3 point latch in the smaller karts, 5 point metal latch in the Platinum GTS), wheel brakes and full roll cages. Our riders safety is paramount to us and you can be sure we hold this to our highest regard.
Pulse-Pounding Exhilaration. You can be sure there's fun to be had with our go karts. With available 149cc air-cooled-four-stroke engine and class-exclusive gas performance shocks, our GTS Platinum is ready to hit the trails in a big way! You'll be sure to love the power these karts can put down.
Affordability. With all of the features in these karts one would expect to spend several thousand dollars. Hammerhead karts have features that are hard to find anywhere else. Performance shocks, digital speedometers, 12-volt outlets, aluminum wheels and the list goes on and on. In actuality, even our top model fun karts have an MSRP of less than $3,000. We simply cannot be beat.
Hammerhead off-road products are a safe, reliable  motor sport the whole family can enjoy. The best advice I can give you is to contact us. Talk to a representative or drop by a dealership today. We'll treat you like family and answer all your questions. Hammerhead Off-Road; play safe, play hard.