It's not a family fun sport till the kids are spinning their own wheels too! Introduce your kids to the fun of off-roading with the Hammerhead® Mudhead 208R. It's designed to pump up your kids' excitement with a 208cc engine and keep them moving with easy-to-use features. Don't worry mom and dad, the 208R has all the safety features to keep them safe.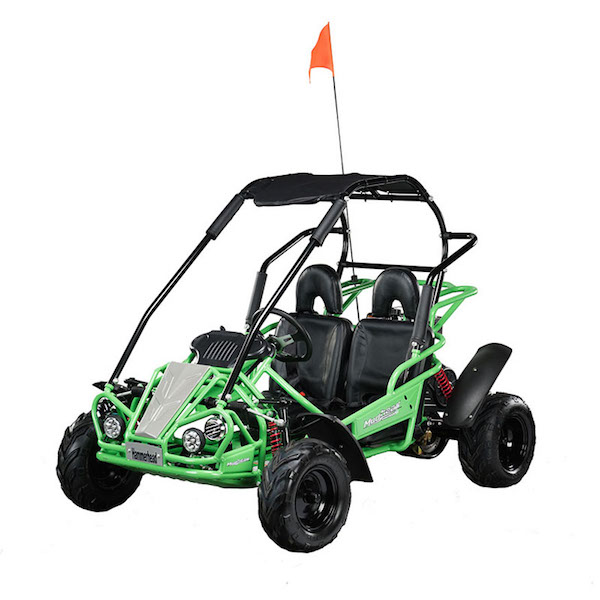 Off-roading is a sport the entire family can enjoy together. Lifetime bonds are created when parents and children can both participate in the fun together. That's why Hammerhead has produced the Mudhead 208R, a two-seat cart sized for kids over 10 years of age. Kids want to drive, not tinker with extra amenities, so the Mudhead 208R is equipped with just the right amount of features to keep operating performance simple. It has an easy electric start, manual choke for all-climate starting, reverse mechanism, headlights for full-day driving, and an adjustable seat for a comfortable and safe fit.
The Mudhead 208R is available in six colors. So, your family can have matching vehicles, or he/she can choose their own color to match that daring independent streak they have that makes them want to head down the trail in the first place. Hammerhead has off-road vehicles for everyone in the family and there are definitely some kids in the family that will love the Mudhead 208R.
The Mudhead 208R is designed to get up and go, and the steering and handling features makes it easy to maneuver about anywhere. It has an automatic CVT transmission, rack and pinion steering, front suspension dual-A arm, a rear swing arm and hydraulic brakes.
The Mudhead 208R is designed so mom and dad can share the trails with the kids, but, just like the kids, it's equally comfortable just cruising in the backyard or neighborhood. Enjoy the great outdoors and some family fun with your kids this year. They'll be happy to join you in their own Hammerhead Mudhead 208R!